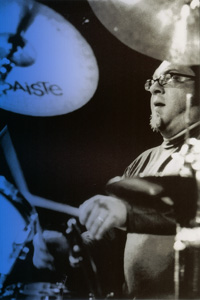 Joe Trump is a veteran of NYC's studio and live music scene,though he now makes his home with his wife,two young children,and two old cats in Portland,Oregon.As a member of such diverse groups as... Carlos Alomar/Robin Clark Project (r&b/funk):Elliott Sharp's Carbon ( avant garde industrial ), Boodlers ( improv psychdlc acid jazz ) and Terraplane (straight-up blues ):Martin Atkins' Pigface ( art-punk industrial ) and Brain Brain (punk-funk):Susan McKeown's Chanting House (folky-funky crossover celtic): King Black Acid (heavy groovy space-rock): Hitting Birth (heavier neo-tribal industrial ):Galactic Federation (super groovy live trip-hop/acid jazz): Gawk (heavy modern art-rock),and many, many others too numerous to mention , he has toured and recorded extensively throughout the U.S ,europe and Japan.

Classically trained , the son of two opera singers, he began the drums at the age of six , then later studied piano, violin ,and voice. Immediately after majoring in music at SUNY Albany, he worked as engineer for two and a half years at Planet sound recording studios, NYC.
He has been a professional drummer/ percussionist for 29 years,writing, recording and producing for 20. and specifically for film and video for 9. Commercial & industrial clients include Nike.inc. and Wieden & Kennedy Advertising.