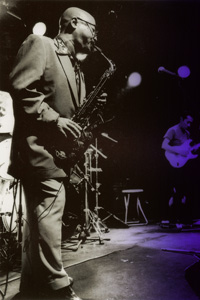 Umezu is one of the most important reed players in the world. He is not only a well-known jazz master, but also a great improvisor to collaborate with.
He works with... many different kinds of music and dance performance. He is always acquiring new sources for improvisation and composition. The one thing that does not change is the sound of his saxophone.
It's always clear, beautiful and strong. He may blow strong and speedy like a demon and then sometimes very humorous and then again sometimes melancholic.
Most people who hear him perform get the feeling of Japanese soul. It's quite uncommon for one musician to have a flexible mind that can make music with many different types of musicians, and still be able to keep his own style. This may be a contradiction for most musicians, but in the music of Kazutoki Umezu, flexibility and consistency do not exclude each other. Born 1949 in Sendai, Miyagi prefecture.

Umezu made his professional debut while still a student at Kunitachi Music College with his own band "SEIKATSU KOJOU I-INKAI".

Active in new jazz movement centered around Studio We, Studio Rivbea, and Ali's Alley in New York City, from 1974 to 1975. He played with "TED DANIEL'S THIRD WORLD ENERGY ENSEMBLE" "SUNNY MURRAY TRIO" "THE ABORIGINAL MUSIC SOCIETY"and had many sessions with musicians such as Lester Bowie, Olu Dara, Joe Bowie, Oliver Lake, David Murray, William Parker, Rashied Ali.

Upon return to Japan, formed the immensely popular"SEIKATSU KOJOU IINKAI ORCHESTRA". They released 2 records.

From 1981 for a period of seven years, toured Japan and Europe extensively with "DOCTOR UMEZU BAND". They performed twice at the Moers Jazz Festival. They made 8 records in 8 years.

Starting in the mid-80's he played frequently at "Knitting Factory" in New York, with musicians in NY such as John Zorn, George Lewis,Tom Cora.

From 1989 to 1997, Umezu led the seven-member "SHAKUSHAIN" which takes its name from a legendary Ainu hero. They toured in Japan and made 2 CDs.

From 1990, he toured for four consecutive years as the third member of "THIRD PERSON" with Tom Cora and Samm Bennett. They recorded 2 CDs.

Around the same time he also formed bands in NY, one was "ECLECTICISM" with Marc Ribot,Curtis Fowlkes,Brad Jones,Samm Bennett and Dougie Bowne.Another is called "First Deserter" with Tom Cora,Wayne Horvitz,Marc Ribot and Samm Bennett. Each recorded one CD. In 1999, he performed with Marc Ribot,Brad Jones and Kenny Wollesen in NY, and also recorded a CD "Pandora's Cocktail" with this lineup.

Formed a eighteen-member klezmer band, the only one in Japan, "BETSUNI NANMO KLEZMER" in 1992,and formed smaller klezmer,gypsy band "KOMTCHA KLEZMER" in 1995. Recorded 3CDs for "BETSUNI NANMO KLEZMER" , 4CDs for "KOMTCHA KLEZMER".In 2005 "KOMTCHA KLEZMER," went to Russia and performed 3 major city.

In 1998, he was invited by Ian Dury to tour in England as a member of Ian Dury & the Blockheads. He released solo Bass clarinet CD "Show the Frog" and "Enka solo" He toured many places as solo . Umezu's current ongoing projects are "KAZUTOKI UMEZU "KIKI" BAND," "KOMTCHA KLEZMER" and small brass band just 4persons "Chibi Brass" .
In addition to pursuing his own projects, Umezu continues to participate in projects by other people, both in and outside of Japan, with jazz musicians and improvisors such as Yosuke Yamashita, Koichi Makigami, Yoshihide Otomo, SHIBUSASHIRAZU, Mal Waldoron, David Murray, Lester Bowie, Barre Phillips. He also enjoys musical relationships with key figures of the New York improvised music scene such as John Zorn, Ned Rothenberg, Anthony Coleman, George Lewis, Fred Frith ,Marc Ribot ,Frank London,Don Byron,David Krakauer and Wayne Horvitz.
Outside of jazz and improvisation, he has recently played with Fanfare Ciocarlia, and has played blues with B.B. King, Bernard Purdie; rock with Ian Dury & the Blockheads, RC Succession, Hikasu; traditional Japanese music with Michihiro Sato; Okinawan Island folk with Tetsuhiro Daiku; Taiko with KODO, Eitetsu Hayashi,Ondekoza; Korean music with Choi Jongsil , Kim Suk Chul, Kim Yong Taek; music for dance with Saburo Teshigawara,Kazuo Ohno; Butoh with Touru Iwashita ( Sankai-juku), Min Tanaka-- just an example of some of the musical scope that Umezu covers, and his energetic pursuit of unrestricted collaborations with other musicians and different varieties of music.

He has also completed the sixth of his annual "OH-SHIGOTO" session of consecutive live shows, the "collective edition" of his such work with others. Over a period of 20 straight days, he played every day a different set with 70 different musicians, the event ending in tremendous success. Now he is doing 6~8 days"OHSHIGOTO" annually these past 16 years.

He has produced events and festivals at Club Citta Kawasaki such as "SHICHITEN-BATTOU" and "Cabaret OH-BUROSHIKI", and has been one of leading music director for "ASIAN FANTASY" held at Theater Cocoon, which explores new directions in music with musicians from all over Asia.